At Crossroads Fitness it's not only movie stars and athletes that train with Personal Trainers. We believe that no event is more important then your personal health and well being. With 14 Trainers on staff, we have the perfect trainer to help you accomplish your goals, keep you motivated, accountable and achieve the most with your time in the gym.

Because we are here to help you achieve your fitness goals, Personal Training is available to both members and non-members of Crossroads.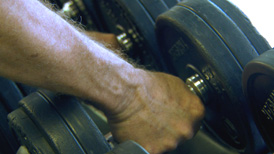 Our Personal Trainers are fully qualified to help you assess and improve your levels in the following areas:
Body fat
Strength
Endurance
Cardiovascular
Flexibility
There is a small charge for personal training appointments and payment must be received in advance. Please inquire at the front desk if you are interested in this challenging form of fitness.