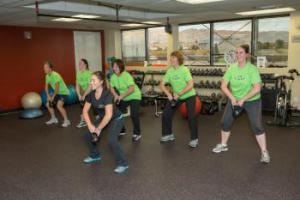 "Small Group Training" is an intensive strength training class that consists of 3 to 5 members. It meets for one hour, two or three times per week for a full month. Offered at each location, each group is taught by a Certified Personal Trainer. Members come to a class that is planned, supervised and motivating. It's a great way to have fun with others and get personal training at the same time!
Try a Class for FREE today!
Small Group Training Weight Loss Program!
Who should take a "Small Group Training" Class?
SGT groups are offered to members who are interested in an intense training program created to insure maximum results in body toning and conditioning at an affordable price.
Participants exercise under the guidance of a Personal Trainer who provides personal attention and knowledge of form, variety and exercise modifications.
Lifestyles promotes an understanding of the following:
Neuromuscular balance, control and response
Basic anatomy
Muscle isolation
Muscular development for proper body posture
Endurance training and strength conditioning
Exercise principals and technique
Participants are expected to be on time and dressed to work out (loose fitting clothing is recommended to allow freedom of movement). Measurable physical results are documented throughout the 4 weeks of training.
The group atmosphere provides support that can help you reach your personal goals. Many of our members will verify that this course has helped to change their lives. With assistance from our Personal Trainers, along with their own dedication, members have seen results that prepare them for the active lifestyle they desire.
Don't have an Hour to workout? Try our 30 Min Express Class!