Success Stories & Testimonials
Deb Twardowski

Three years ago, when my youngest left for college and I turned 50 years old, my husband and two children gave me a membership to Crossroads and 3 training sessions with Carla Bamford. I had been complaining about working out in our home gym because I was totally bored. I was really unsure of even how to work out because I had never really grown up in a gym setting.
I had spent 20 years raising my children and expanding my career as a nurse practitioner and now all of my "Mom" activities were non-existent. Within months of joining Crossroads I noticed a big increase in energy and a big decrease in my waist. I enlisted my friend, Nancy Benton, to join me in a Small Group Training session and we have motivated each other above and beyond. I lost 30 lbs and dropped from a size 10 to a size 4! I look forward to each work out with Carla and even my staff at work know to get me out on time now so I can get to the gym! Carla has taught me so well that I can even hit the gym at Crossroads and accomplish workouts on MY OWN! I look forward to continuing my training sessions with Nancy and Carla.!

Zachary Rosales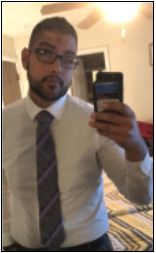 My name is Zachary Rosales. I grew up playing sports and I was an all state wrestler at Central High School in Grand Junction. I got into fitness after high school and unfortunately when I was 24 years old a virus latched onto my heart and gave me congestive heart failure (CHF). This caused me to put on over 100 pounds due to fluid build up . The fact that I couldn't breathe or do physical activities got my weight up to 311 pounds. I've had multiple surgeries, stayed months in the ICU and been placed on a heart transplant list. I've gone to cardio rehab and have kept pushing and even though I still have CHF I have gotten down to 200 pounds. After I finished cardio rehab, Crossroads Fitness had all of the same equipment as my rehab , so I was able to show up 5 days a week starting off by doing what I could until I was cleared to lift again. Even though cardio is a hard task for me, I'm able to use the pool for that part of my workouts. My advice for others is even though it's a slow process and the results may not come as fast as you want them, just show up one day at a time! Do what you can because before you know it you'll surpass the goals you set for yourself!
Rachel Saunders
Hi! My Name is Rachel Saunders and I am one of the fitness instructors here at Crossroads. I can't even tell you how momentous it is to be able to say that one line! I never would have guessed this would be where my life's path would lead but I am loving every second of it! You see my struggle with weight and debilitating shyness has been a lifelong battle. I had never been thin and I had horrid social anxiety. At the point in my life when we moved to Grand Junction I had achieved one big goal in my life. To become a mother. But achieving that goal was much harder than expected. I suffered some devastating losses. I was diagnosed with an incompetent cervix. When I became pregnant with my son William I was placed on weekly shots. I had to have surgery at 14 weeks and was placed on bed rest for the remainder of the pregnancy there after. Over 6 months of bed rest had taken a hefty toll on my already sorely out of shape body. I don't actually know what my end weight was. After the scale tipped 200lbs I simply stopped getting on a scale. When we first arrived in Grand Junction I had not weighed myself on over a year. My son was now 3 and I had neglected my health for far too long! I was at my heaviest I had ever been and I was facing isolation. My husband had gotten a job in the oil field, which I knew meant my being alone half of the year. With every friend or family member I had ever know over 5 hours away in Salt Lake City Utah I set my mind to do two things. 1: walk every day and regain some resemblance of health 2: break out of my shell and make some friends. So, I did. I started walking my dog every day. The walking lead to a tiny bit of weight loss which fueled a fire. I joined a moms group and found some amazing friends one who encouraged me to join a gym. The selling point back then was an hour of me time, without having to worry about my son, just for an hour. So, I tried it. I did the only thing I thought I could maybe do at a gym, dance class. I had always loved dance, so I started with Zumba classes here at crossroads. The Zumba lead to a little more weight loss which fueled more fire. Before I knew it I was reading every fitness article and website I could find. I was researching and analyzing every bit of data available, as has always been my nature but I was now doing so in a feverishness pace! I found some websites to help me with my nutrition and found the best mix of cardio and strength for me. The best thing I found though was a lot of hidden confidence! I was coming out of my shell little bit by little bit. I was making friends and I was being encouraged by some of the most amazing instructors! Friends and instructors alike were putting a bug in my ear that I had a knack for this fitness thing. that I had natural athletic ability (who knew) and I should teach. I managed to lose 80lbs but what I gained was my life! The only thing left to do was to show others how to do it too. With the help of my friends and my amazing gym family here at Crossroads I can now very proudly say I am a healthy fit and even outgoing when the time calls for it ;-) fitness instructor, soon to be personal trainer. I can't imagine where my life would be had I not come to crossroads and I don't want to even try.
Becky Jones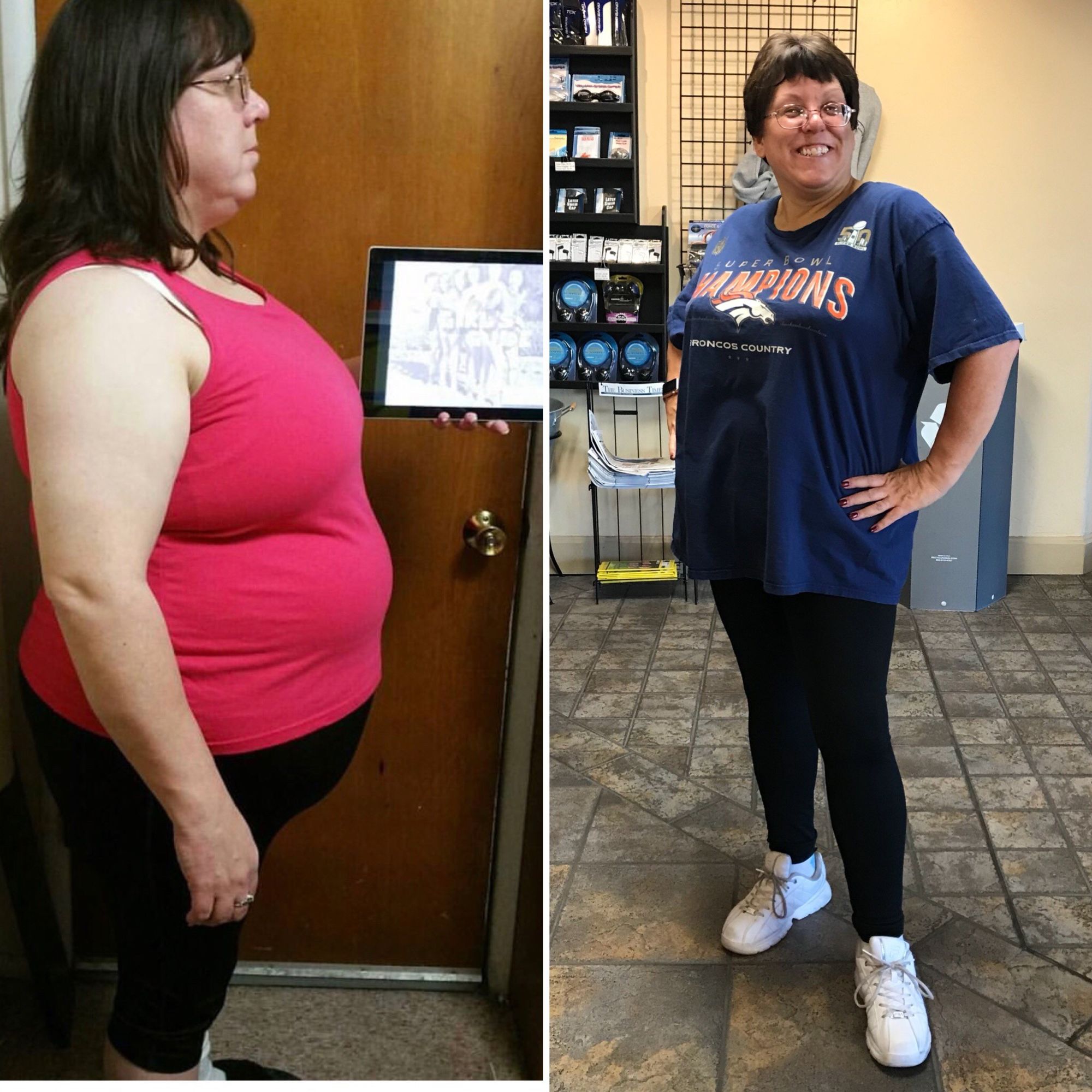 Hello,
Amy Bergen at the front desk encouraged me to send this photo to you of the progress I've made in the last two years thanks in part to Crossroads. The before picture was taken 2 months before I joined in 2016. There is 60lbs weight loss between it and the "after" picture. I've lost 50lbs this year, since June actually. I owe a LOT to my trainer Rose at Crossroads. She kicked my behind into gear! Becky Jones
From a member . . .
June 23rd, 2012

Dear Dale and Crossroads Fitness Center Staff,

As a long -time member of Crossroads Fitness Center, my family and I have always enjoyed your wonderful facility. The 2011 – 2012 year has given us an even greater appreciation.

We send our heartfelt thanks to all the staff for helping us through a difficult time. During a health challenge, Crossroads staff was an intricate part of our lives. Many times, I would visit Crossroads for a workout, sometimes twice a day! Your exceptional staff was not only helpful, kind and supportive, but non-obtrusive.

Crossroads became a second home. It was and is a place to maintain our physical strength and whole-health equilibrium. We are grateful for all your concern and we are looking forward to many years of enjoying the Crossroads Fitness Center family.

Sincerely,
Kathy, Pat and Sam Arbeiter